Home » Accomodations » Hafnia Hotel
Hafnia Hotel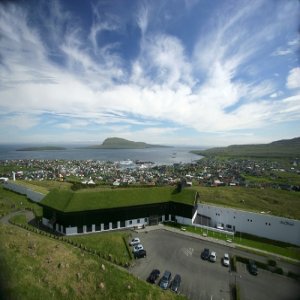 Situated in the heart of the worlds smallest capital, within walking distance of the harbour and the historical part of town, Hotel Hafnia is the perfect setting for your stay.
Within walking distance you will find attractions, information office, shops and nightlife. From the hotels roof terrace, there is a unique panoramic view over the whole town.
The Airport Shuttle provides transportation to and from the hotel. Payment is to be settled directly with the driver, and it stops right outside the front door of the Hotel.
Our restaurant is located on first floor overlooking the main street. We are well known for our international cuisine offering a variety of international courses as well as faroese specialities prepared and served by inter-nationally trained chefs and restaurant staff.
We are more than happy to assist you, and help you decide on a wine complimenting your order.
We recommend our guests to reserve a table in advance, and note if there are any special request at your dinner party
We look forward to welcoming you to Hotel Hafnia.
Room Info
At Hotel Hafnia we have 38 single rooms, 18 double rooms and 1 suite. It is possible to get an extra bed in the room if needed.
All rooms are equipped with toilet/shower, satellite-TV, radio, hair dryer, minibar and telephone with voice-mail and with possibility for high-speed Internet acsess.
Our rooms are regulary refurbished, modernized, cosy and are kept in subdued colours.
We have renovated 38 of our rooms and have plans to renovate the remaining 19 rooms in winther 2006 / 07 - in order to offer all our guests better comfort.
Children under 12 years staying in their parents bed are free of charge.
Check-in is after 1 pm and check-out is at the 10 am. If you have any requests regarding this, please contact the reception.