Home » Region » Finland
Finland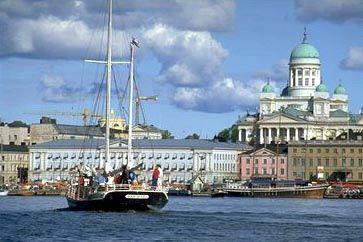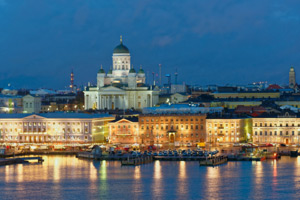 Brief History Of Finland
The Finns' ancestors, nomads from Asia, began to arrive in what is now Finland in about the first century BC, driving the Lapps northwards. Traces of pre-Christian Finnish society are still visible in the remains of hilltop fortresses in South Hame and in Karelia.
During the Viking era, Swedish traders and warriors extended their interests throughout the Baltic, and Finland was conquered by the Swedes in 1155. But the Russians also had colonial ambitions in the area, and for centuries the country became a battleground for wars between Sweden and Russia.
However, most of Finland remained a Swedish province until it was annexed by Russia in 1809, during the Napoleonic wars. From about this time Finnish nationalism gradually began to gain ground, but it was only after the First World War that Russian control was broken and independence declared.
In 1939 Finland and Russia went to war after Finland rejected the Russians' request for military bases in the country. After a heroic defense of their country against overwhelming Soviet forces, the Finns made a reluctant peace, being forced to cede 10% of their territory. Hoping to regain it, Finland joined Nazi Germany in an attack on the USSR in 1941, but the Soviets' growing strength forced the country to agree to an armistice, and Finnish forces turned to fight German forces in Lapland. In 1948 Finland signed the Finno-Soviet Pact of Friendship, Co-operation and Mutual Assistance.
The country also signed a trade treaty with the European Economic Community in 1973, and its unique relations with East and West put it at the forefront of dialogue between the antagonists during the Cold War. Since the Soviet Union disintegrated, the country has maintained trade both with the former Soviet republics and western European countries. The Finns voted to join the European Union in 1994.
The People And The Country
Dominated for 800 years by either Russia or Sweden, Finland has none the less retained a unique identity. Its culture is distinctly Scandinavian, but in temperament the Finns are more like the Russians - friendly but not prone to small-talk. A popular joke in Sweden tells of two Finnish men meeting in a bar. After an hour one says, 'Cheers'. The other replies, 'I thought we came here to drink, not talk'.
Forest people at heart, in their free time the Finns tend to head for their country cabins to commune with nature. Most of Finland, which is twice the size of the UK, is quiet, rural and wild: the Arctic zone covers a third of the country, and the other two thirds are mainly covered by forest. There are more than 188,000 lakes.
Finland has fewer hotels than museums, but there is no shortage of lakeside log cabins, all with their own sauna. All year round, Finns spend a lot of time in saunas. The country has more than a million of them, and in theory the whole population of five million could sweat it out at the same time.
Summer pastimes include fishing, swimming, hiking and mushroom and berry picking. If you decide to brave the winter, go north during the eerie 'blue light' season and take a cruise on an icebreaker. Apart from that the main winter attractions are cross-country skiing and ice fishing.
Helsinki And Hanko
Finland's capital, Helsinki, is a small and picturesque city, with wide boulevards and fine architecture. There are about 60 museums, 40 galleries, 50 Libraries and 6,000 hectares of recreational areas and parks. It's easy to get around on foot or by tram.
The morning fish market on the quay is a good place to sit and watch the locals. The Hietalahden flea market sells everything from broken hairdryers to Russian meat pies. You may not be interested in broken hairdryers or Russian meat pie, but this market is also popular locally and comes alive on summer evenings.
The old Cable Factory has been refurbished to provide studios and workspaces for hundreds of local artists and performers. It also has exhibitions, galleries and a theatre staging drama and dance. For more information contact The Cable Factory; Tallberginkatu 1C/15, 00180 Helsinki; (tel: 00 358 0 4763 8300; fax: 00 358 0 4763 8383).
The coastal resort of Hanko is about an hour and a half's drive from Helsinki. Beautiful seaside villas dating from when Hanko was popular with Russian aristocracy are now available as bed-and-breakfast accommodation. At Hauensuoli harbour, the 'Archipelago Guestbook', carved into the rock, contains the names and stories of sailors and travellers dating from the 16th century onwards.
Festivals
The Savonlinna Opera Festival (5 July to 4 August) and the Helsinki Festival (22 August to 7 September), which covers all the arts and attracts performers from all over Europe, are amongst the foremost events. There's also the Tampere Theatre Festival, during the third week of August, and the Love and Anarchy Film Festival (20 to 26 September).
Lake Steamers And Lazy Days
Finland is a land of 188,000 lakes. Within just a few hours drive to the north and northeast of Helsinki lies the glistening lake district. Quiet countryside and cultural sights alike sidle up to the myriad lakes, many linked through canals.
Book passage for a few hours or a long, light day trip to and from many destinations like Savonlinna, with its 15th-century fortress and acclaimed opera festival; Hein?vesi, and its 800-year old Russian Orthodox Monastery; Tampere, a model of 19th-century preservation and a thriving contemporary city. Relax on deck, succumb to the old world pace, and dine on board. For details, give us a call!