Home » Accomodations » Jarvsobadens Hotell
Jarvsobadens Hotell
Swedish Countryside Hotels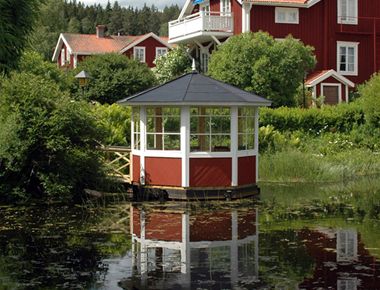 Jarvsobadens Hotell is a charming, rural, family hotel from the turn of the century. It is set in one of Swedens most beautiful areas of forests and lakes. Jarvsobadens is known for its comfortable public lounges, superb bedrooms and good food. There is a sauna and an outdoor pool for all guests.
The hotel and its guests have been looked after by the same family since the turn of the last century. Guests are treated to a wonderful atmosphere, friendly, personal service and exceptionally good food. By the pool you will find the tennis court and the start of some delightful woodland walks. Close by is the Jarv Zoo, where you can see wild animals of the Nordic countries in their natural environment.
There are many activities available including golf (Ljusdals 9-hole riverside course), tennis on grass and clay, canoeing, fishing, horseback riding, excursions, walks, skiing (cross-country and downhill), and dancing.
Location
The hotel is located on the outskirts of JÀrvso on the lower slopes of Ojeberget and is 340 km from Stockholm and 160 km from Gavle airport.
Room Info
Singlerooms 21
Doublerooms 16
Rooms in several buildings
Rooms where dogs are allowed 3
Familyrooms 5
Guestlounges 4
Disabled-friendly rooms 1
Minisuites 1
Rooms for smokers 2