Home » Accomodations » Hilton Strand Hotel
Hilton Strand Hotel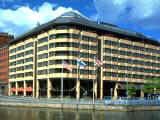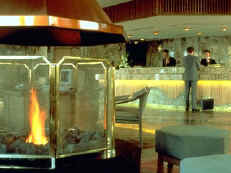 The Hilton Hotel Strand, adjacent to the old city center of Helsinki, offers a magnificent view of the harbor with luxurious accommodations and terrific service. Numerous windows provide glorious views of the old city, making the 200 room facility seem extremely spacious. A beautiful atrium allows people to view the fresh market located just outside the hotel. A fabulous health club including saunas, jacuzzi and a swimming pool is located on the top floor providing a superb view of the entire city.A striking combination of Finnish granite and marble greets you as you enter the Strand lobby. In addition to deluxe accommodation our guests can also enjoy a 24-hour room service, Business Centre with secretarial services, Internet and e-mail, Finnair check-in desk, full laundry and valet service and heated underground parking area.
Location
Location Facts:
Distance from international airport: 18 km
Approximate time by taxi: 20 mins
Approximate one-way fare: FIM 120
Approximate time by shuttle bus: 25 mins
Approximate one-way fare: FIM 50
Distance to city centre: 0.7 km
Heated garage for 65 cars
Room Info
All 200 rooms at the Strand are a harmonious blend of beauty and function. The rooms are luxurious, spacious and distinctive. Air-conditioning, remote control color TV with satellite and movie channels, minibar, trouser press and PC connection are all standard fixtures.
If you prefer a room that is out of the ordinary, the Strand offers eight spacious suites to satisfy the most discerning guests. The security in all the guest rooms is up to the latest standards and includes sprinklers and smoke detectors, electronic key card door locks as well as doorbells and peepholes on all entrance