Home » Accomodations » Edda Hotel
Edda Hotel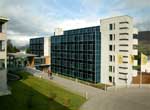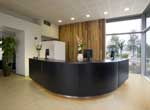 Travel in Iceland - Welcome to Hotel Edda
* 72 Rooms with washbasin
* 132 Rooms with bath
* Restaurant
* Swimming pool across the street
Open 14 June - 27 August
The restaurant seats about 150 people where you can have a delicious dinner buffet as well as an a la carte. We also recommend our rich and varied breakfast buffet. A small café is situated in the reception area. On sunny days we serve outside on the veranda.
Location
Akureyri has several museums, including the Folk Museum, Natural History Museum, Nonnahús (childhood home of author Jón Sveinsson), etc. At Listagil artistic and cultural life flourishes all year round.
Adjacent to the hotel is a good open-air swimming pool, and Akureyris renowned botanical garden is also close by. In the centre of town are cafés, restaurants, a large selection of shops, and other services (banks, post office etc.). The Kjarnaskógur woods just outside the town offers a variety of pleasant walks.
Akureyri is an ideal centre for touring the north of Iceland. The region around Akureyri offers much to see, including such historic places as Grund, Möðruvellir and Laufás, and many other attractions of north Iceland are within easy reach.
Room Info
Hotel Edda in Akureyri is located in the student residence of the Akureyri High School, in the heart of the town. It is ideal for those who are looking for good accommodation and service at a reasonable price.
This year the hotel adds 122 new rooms, all with TV, telephone and private bath.
The other 72 rooms are double rooms with washbasin.