Home » Accomodations » Clarion Collection Hotel Bolinder Munktell
Clarion Collection Hotel Bolinder Munktell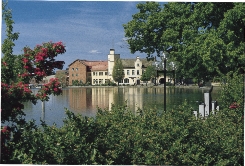 Welcome to the Clarion Collection Bol/Munktel, an Eskilstuna hotel near Lake MÀlaren
Location
The Clarion Collection® Bol/Munktel is ideally located on Lake MÀlaren, within walking distance of Munktells Museum (Munktellmuseet). This Eskilstuna hotel is minutes from MÀlardalen University, Tingsgården Glasbruk garden, the Eskilstuna Art Museum and the Parken Zoo, offering a wide variety of exotic and unique animals like white tigers, Asian lions, leopards and the renowned Komodo dragon, the world's largest reptile.
Eskilstuna is the perfect city for families. The nearby Sundbyholm Castle features music and excellent dining, and is the perfect place for recreation and relaxation. Stockholm is only one hour away via rail transportation.
Golfers will love being minutes from three different golf courses. A variety of restaurants, offering local and international cuisine, are located in the surrounding area.
Room Info
All guest rooms have cable television. Irons and ironing boards are available upon request. Handicap accessible and non-smoking rooms are also available.