Home » Regions » Sweden » Eskilstuna
Eskilstuna, Sweden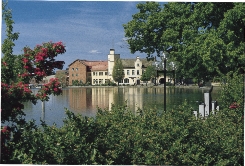 Eskilstuna, a town of about 92,000 inhabitants, is situated close to Lake MÀlaren about 100 kilometres west of Stockholm in Sweden.
Our town has an interesting history. Eskilstuna was well-known as a flourishing industrial town as early as the 17th century. King Karl X Gustav founded the Rademacher Forges in 1650 when he asked Reinhold Rademacher, a master smith, to manage the forges.
The character of the town has changed over the years. With the inauguration 1997 of the high speed train service from Stockholm to Eskilstuna the town has become a centre in the fast growing MÀlarregion. Stockholm is now only 60 minutes away by rail which makes it feasible to live in Eskilstuna and work in Stockholm. It is also convenient for visitors to Stockholm to take a day trip to Eskilstuna.