Home » Regions » Norway » Lofoten
Lofoten, Norway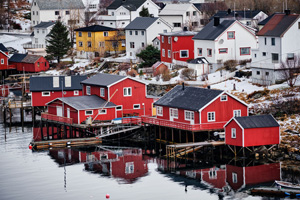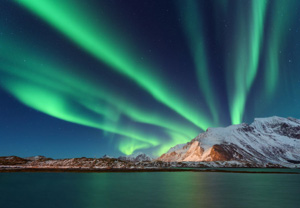 The Lofoten Islands extend dramatically out into the Atlantic Ocean, off the coast of Northern Norway. This string of islands was home to the richest seasonal Cod fishing in Norway and picturesque old fishing villages are nested beneath the steep mountains, at the edge of the crystal clear waters.
Visitors with a taste for unspoiled nature, old world charm, and adventure will enjoy these magnificent islands near the Arctic Circle. A relaxed, "away-from-it-all" atmosphere prevails, and the traditional mainstay, stockfish, still hangs to dry over the wooden racks the way they have since the Viking Age. Stockfish, cod liver oil and other fish products were sailed mainly to Bergen and from there exported to many countries. For some time stockfish was Norway's primary export and the best climatic conditions for stockfish production are to be found on the Lofoten islands.
The many sights include Svolvær, the Capital of Lofoten, a town made wealthy in its day from the lucrative stockfish trade; the village of Reine, nested amongst tall, imposing mountains; Lofotr in Borge, where a Viking village, complete with buildings, livestock and a Viking ship, which has been rebuilt on the site of an old viking settlement, and the narrow Nusfjord with its charming Rorbu (traditional Fisherman's dwellings) set in a spectacular, narrow granite fjord; Maervoll in Steinfjorden, Borge with the proud sea alpine mountains Himmeltindene and countless other fishing villages and homesteads.