Home » Regions » Finland » Kemi
Kemi, Finland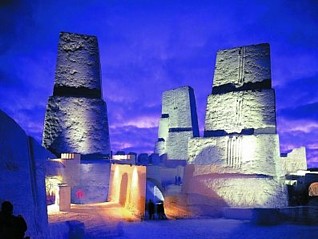 Kemi is located right in the heart of Finland. During the past few years, Kemi has made friends from all over the world. Kemi-Tornio airport serves air travellers and the excellent road and highway system allow easy access from all directions.
The Kemi tourist information office in the Gemstone Gallery next to the SnowCastle is there to answer all of your questions. Our professional employees can tell you all about our tourist attractions and provide you with th proper guidance.
Sights
Excursion to Ranua Wildlife Park
Take a trip to Ranua Wildlife Park, which is located 1,5 hours by coach from Kemi, the ride taking you through Lapland's countryside. Upon arrival at the wildlife park you'll enjoy a buffet lunch in the park's restaurant and then participate in a guided walking tour through the park, seeing Nordic and arctic animals, such as polar bears, brown bears, lynx and wolves, in a natural environment. You can also take a moment for shopping at the souvenir and candy shops in the park.
Sampo Icebreaker by Car
Experience a great winter adventure: a voyage through the ice! M/S Sampo welcomes you on board for a memorable cruise on the frozen Bothnian Sea. Our regular tour features transfer from your hotel to the Port of Kemi and back after the voyage. On board the icebreaker the program consists of ship presentation, a visit to the engine room and the bridge, lunch in the ship's cozy restaurant, and a possibility for "arctic swim" (please note: "arctic swim" for adults only!). The Captain hands the passengers an icebreaking diploma upon disembarkation.
In Search of Aurora Borealis
Snowmobiling in the dark is an exciting experience. You'll set off in the evening and drive out across the ice fields to lookout points for Northern Lights, this incredibly beautiful arctic phenomenon which can only be viewed in the darkness and away from the towns' artificial lights. A hot beverage is enjoyed by campfire.