Home » Regions » Sweden » Jukkasjarvi
Jukkasjarvi, Sweden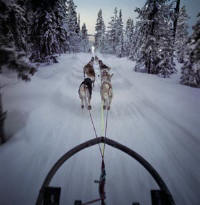 JukkasjÀrvi is a small village 200 km north of the Arctic Circle. It is no coincidence that the name JukkasjÀrvi means meeting place in the Saami language. For half a millennium has this location, by the shores of the Torne River, been a gathering place for people.
Saami, Finnish and Swedish tradition formed culture in JukkasjÀrvi. The present day atmosphere is unique. The surrounding wilderness adds a rare quality and reminds us of the order of things the power of nature and the smallness of man.
It has 541 inhabitants (2000), situated at 321 meters elevation at 67°51′N 20°37′E.
Sights
Torne River
The water of free flowing Torne River is among the purest in Europe. In summer time this is a whirling world of opportunities, and during the arctic winter the frozen water forms the foundation for a fairy world of ice. The seasonal changes of the Torne River provide the yearly rhythm for people living nearby.
Northern Lights
The northern light is a natural phenomenon which occurs when charged particles from space enter the upper atmosphere of earth and collide with atoms and molecules. In the region surrounding Kiruna and JukkasjÀrvi this magnificent display of light and color can be seen in the skies nearly every clear night during winter. The most intense part of the northern lights often lasts less than ten minutes. When visiting Lapland in winter, turning your head towards the sky during the evening walk is highly recommended.
We offer a guided snowmobile tour in search of Northern light. During the tour the guide will tell you about the phenomenon, different starts and also show you a short slide show about the surroundings, mountains and the aurora borealis. A light meal based on local food is included in a wilderness camp.
Daily 7.00pm - 11.00pm
Sami Culture
Lapland is the Land of the Sami people. Evidence has been found to indicate that the Sami inhabited the area not long after the Ice Age. Lapland, also known as Samiland or Sápmi, extends into four countries. From the Kola Peninsula in Russia to the northernmost of Finland, through northern Norways coast and inland and large parts of northern Sweden. Lapland is a vast region. To a large extent, the Sami people still practise their traditional way of life, based on the unique interaction between man, animal and nature.
We offer a Raidu tour where you take part in the indigenous people'ss daily life and their rich culture. Try to drive a reindeer sled on a short track! Traditional sami food will be served by open fire.
Daily at 9.30am and 2.30pm.
Wilderness Safari
Guided snowmobile safari in the surrounding woods of Jukkasjarvi. During the tour we will have time to see the fauna in the area. Ask your guide about our old culture and market place when you stop. Traditional light wilderness meal in camp is included.
Daily at 1.30pm
Overnight in Wilderness Camp
A guided tour with overnight in our wilderness camp. You will pass dense and snow clad forests. Together with your guides you will experience a tour you will never forget. Maybe you get lucky to see the northern light on the night sky or your favorite star! A three-course dinner and a hearty breakfast are included as well as sleeping bag, liner and towel for the sauna.
We have different camps we go to, due to group size, weather condition and reindeers in the area.
All camps have cabins with one open room where you all sleep and wooden heated sauna and outdoor dry toilets.
Friday and Saturday departures.
For the Enthusiasts!
A tour for you who likes riding a snowmobile. You might have joined another of our tours and like to ride some more. We offer you 2 hours of great fun! Hopefully you get the feeling of free riding. One person per snowmobile in small groups of 8 guests per guide at most.
Daily at 8.00am - 10.00am
Ranger Racer Safari
We offer you Polaris Ranger Racer, a side-by-side ATV. We drive through dense pine forests and over lakes, frozen rivers to one of our wilderness camps. You will be served lunch before returning to the Ice Hotel. We try our skills on the track, mayby you will time yourself or compete with your fellow drivers.
Daily 10.15am - 1.15pm
Into the Moose Gracing Land
This special tour begins with a transfer to the starting point of this snowmobile tour. We seat ourselves on the machines and take off into the heart of the moose's gracing land. Exclusive tour with only 8 mobiles per group. Lunch is included. We can of course not guarantee that you will see moose but we have never had a tour in three years that have not seen moose.
Daily at 8.30 - 2.30pm through March 31.
Wilderness Tour in Search for the Moose
We travel in minivans to the moose winter gracing land. A sort stop for coffee or tea with cookie is included in the trip. If the timing is right you will have a good opportunity to take photos. This tour is very suitable as a transfer to the airport.
We can of course not guarantee that you will see moose but we have never had a tour in three years that have not seen moose.
Daily at 8.30am - 12.30pm
Starlit Dinner in Wilderness Camp
Minibus transfer to Esrange, a space station open to the public. Guided tour of the station and information of the Northern Lights and stars in the sky. We move on to a wilderness camp nearby, beautifully located next to lake Salmijarvi. While the dinner gets prepared, wine will be served and we observe the sky and stars with binoculars. A 3-course meal awaits and afterwards we return to the Ice Hotel.
Daily 7.00pm - 10.30pm through March 31.