Home » Regions » Norway » Honningsvaag
Honningsvaag, Norway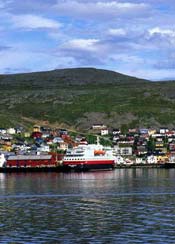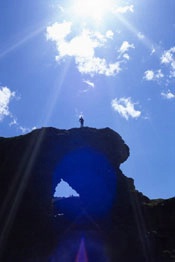 Honningsvåg is situated on the island of Magerøya in the district of Finnmark and is the centre of the Nordkapp municipality.
At the turn-of-the-century when a new fishing fleet was established, many of the old harbours became obsolete. As a result, in 1895, the municipal council decided to move the municipal administration from Kjelvik to Honningsvåg, partly because the harbour was better suited. This proved to be a wise decision.
Honningsvåg is today Norway's third largest cruise boat harbour, with almost one hundred calls every year. The local coastal steamer Hurtigruten and other ships call daily. Honningsvåg is also important as the last stop before the Arctic Ocean for traffic eastwards.
Nearly 2600 people live in Honningsvåg. The town is also a centre for Finnmark County's fishery education. Here you will find the post office, several banks, the police station, North Cape Health Centre and a dentist. There are good restaurants, plenty of shops, several car rental firms, as well as a number of souvenir shops. The island's only petrol station is situated at the road into town. By the end of World War 2, Honningsvåg was destroyed by the leaving German army. The only building left was the church from 1884. Today Honningsvåg is a good example for the typical rebuilding architecture. Honningsvåg offers guided tours through the rebuild town.
Honningsvåg is situated in the subarctic climate zone. Thanks to the Gulf Stream, the temperature along the coast is approximately 20ºC higher than in other areas at this latitude (71º). Annually about 800 mm of precipitation falls, mostly in the form of snow during the approximately 150 days of frost in the year.
One of the Nordic countries' main attractions is without a doubt the midnight sun, which can be seen in the North Cape area from the middle of May until the end of July. The sun disappears completely beyond the horizon on 20 November, not returning again until 22 January.
The plateau on the North Cape cliff is only 34 kilometres away from Honningsvåg and is Europe's northernmost corner, at 71ºC 10' 21'' latitude. The impressive and dramatic cliff has long been a navigational marker for seamen. The somewhat modest peninsula "Knivskjellodden", which reaches one and a half kilometres further north, is surpassed, not just in height, but also when it comes to popularity.