Home » Regions » Norway » Hardangerfjord
Hardangerfjord, Norway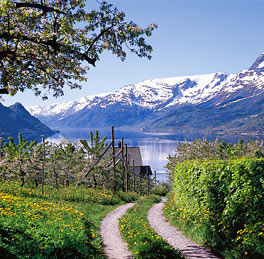 The Hardangerfjord is 179 km long and is one of the most famous of several beautiful fjords in Hordaland. It is especially renowned for the "Hardanger spring blossoming", one of the most beautiful sights that Norwegian nature has to offer. This is a long and quiet fjord with colorful blossoms on the fruit trees and snow-covered peaks all in one view. The fjord is lined by a number of charming villages.
Sights
Hardangervidda Natursenter
The Hardangervidda Natursenter is perhaps the most modern nature and heritage experience centres in Norway.
Exhibitions with a high degree of interactivity, untraditional aquariums and the Ivo Caprino super video cinema.
The nature centre provides information about, and lets you experience, geology, botany, glaciology, zoology, archaeology and ornithology. The Hardangervidda Natursenter at Eidfjord is an unusual experience.
The Norwegian Museum of Hydropower & Indusdtry
Early in the previous century hydropower created modern Norway. The Norwegian Museum of Hydropower and Industry presents its history through the industrial districts of Odda and Tyssedal. The main attractions are the pictorama The industrial adventure and "Tyssedal power station" which, in conjunction with the exhibitions "The great leap" and "A shiny metal future", bring our recent history to life. At the workers houses in the Folgefonngata street you are taken into the daily life of the families of industrial workers, through the pictorama Children on the Hill" and guided tours of the apartments from various eras. Photographs by Knud Knudsen are shown throughout the exhibition and pictorama.
Latefoss
The twin waterfalls at Tvillingfoss on the Rv13, to the south of Odda in "The valley of the waterfalls" where you can find a total of 5 fantastic waterfalls within a limited area. One of Norways most renowned waterfalls gives you a fresh, wet and impressive experience if you visit Hardanger in the spring, when the winter snow is melting.
Voringfossen
Norways most famous waterfall with a drop of 182 metres. Views of the mighty Måbødalen valley from the top and footpaths from the top on Rv.7 to the foot of the waterfall (1 hour return trip).
Steinsdalsfossen
One of Norways best known and most photographed waterfalls. A path goes behind the waterfall, and it can be admired from behind. This is the waterfall that represented Norway during Expo 2000 in Hannover. Easy access 2 km. from Norheimsund in the Bergen direction, just off the Tourist Route Hardanger Rv.7.
Folgefonna
The third largest glacier in Norway, with an area of 212 km2. Access on foot from Odda, Ullensvang and Jondal, by car from Jondal, all the way up to the edge of the glacier (May to October). Here is a café, good parking and the Folgefonn Summar Ski Centre, with ski lifts and snow activities for young and old. Glacier hikes. Marked trails to the top, and panorama views in good weather, among other destinations. In the summer, bus links from Jondal and up to the glacier (restricted access road).