Home » Regions » Norway » Gudvangen
Gudvangen, Norway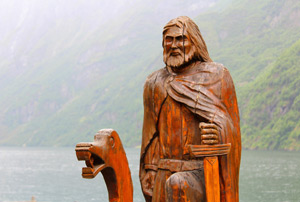 People come from all over the world to visit Gudvangen, because it has everything they expect in a Norwegian holiday - nature at its most spectacular, along with excellent opportunities for fishing, hiking and photography.
Gudvangen has been a frequently visited cruise-ship harbour since 1865. is the ideal place to begin a tour of the Sogn areas many attractions. It is the starting point for ferries that provide fjord tours as well as transportation to the places of interest for which Sogn is famous. You might wish to take the ferry up the Nærøyfjord, to Aurland and Flåm. Once in Flåm, you can take the Flåmline train (one of the worlds most special railroads).
Sights
White Caves
Enter into the bowels of the earth on a soft carpet, listen to Norwegian Edvard Greig's music as you pass running and dripping water, see specially lit caverns and ponds that contrast the white mine galleries.
Flam Railway
The world famous Flam Railway is a marvel of engineering. The only thing lacking when the railway line between Oslo and Bergen was opened in 1909, was a branch line to the Sognefjord. In order to assure a transport route to the fjord, work was begun on the Flåm Railway in 1920. It was to take 20 years to complete. The most time-consuming work was on the tunnels. These were excavated manually. By regular gauge track it ascends 865 meters (about 2,900 ft) in less than an hour, going through 20 tunnels and making a photo stop at the mighty Kjoss waterfall. You will hear a chorus of "oohs" and "aahs" as the incredible scenery shifts from one side to the other. The views on the train varies from the wild, barren inhospitable Hardanger Plateau at the top to the green and fertile Flam Valley that meanders down to the fjord.