Home » Regions » Hungary » Budapest
Budapest, Hungary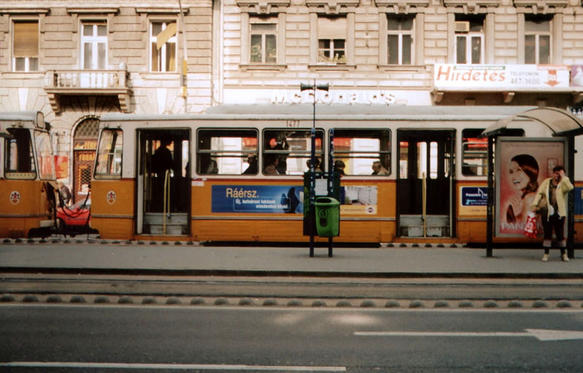 Budapest is the capital of Hungary and with a population of 1,8 million citizens it is by far the largest city in the country.
The city is often referred to as the Paris of the east, and deserves this name. It bears some resemblance to Prague, but is larger and friendlier. The picturesque setting on two sides of the Danube, the nine connecting bridges and the villas and public buildings from the fin-de-siècle era really make Budapest one of the most enjoyable cities in Europe.
Budapest is composed of three cities: Buda, and Obuda on the west side of the river looking over the much larger Pest on the opposite side. To simplify it for tourist, Obuda and Buda are often just refered to as Buda. The three parts developed separately as the bourgeois Buda with its palaces and spas and the more commercial Pest. At first, the hills of Buda were the safe core of the twin cities, but as Buda and Pest were united with Óbuda (Ancient Buda) the plains of Pest became the centre of the growing metropolis.
Today, the most famous landmark of Budapest is the Parliament building on the banks of the Danube. From a distance it looks a lot like the English Houses of Parliament, with Big Ben conspicuously absent. The best view of the Parliament can be had from Castle Hill, a Budapest highlight itself. This collection of palaces, churches and monuments has been declared a World Heritage Site by UNESCO and is a must see for every tourist. Budapest has some very good museums as well, The National Museum (Nemzeti Muzeum), the Museum of Fine Arts (Szepmuveszeti Muzeum), National Gallery (Nemzeti Galeria) and the Historical Museum of Budapest being the a few of the best.
Budapest has become a very lively city, with many good restaurants and a nightlife scene you need to check out to believe. By day, you can roam the city, visit a museum, visit some churches, take your pick of a dozen or so types of coffee in one of the cafés. By night you can have dinner at either a cheap or a fancy restaurant, go to the opera, and afterwards dance the night away.
If you would like a peek into the Budapest-specific nightlife, take a bike tour that takes you to old buildings with large scale yards - turned into bars with a very interesting mixed crowd, good underground/popular DJ-s - You will experience something only very few can. This is not really on their website - only done upon request!!! http://budapestbike.hu - I am very sorry if this is against the policy to advertise a place here, but this is such an inside info - must be shared!
Getting around Budapest is very simple due to BKV (Budapest Kozlekedesi Vallalat-Budapest transportation system). This system has busses, subways, trams, trolley's, urban trains running throughout the city and outer-skirts. If you would like to have more information on BKV, this public orginization hosts a site: www.bkv.hu .
Crime is not a big issue. Pocketpicking is the most common type of crime. To prevent this from happening to you, put all your valuable possesions in a belt bag, or on a neck bag. One more type of crime is taxi drivers ripping you off. Ways of avoiding this is to call the taxi before hand, making sure the taxi has his pay clock on, and asking for a receipt. One more way of avoiding this is using BKV. If you use caution in Budapest, you will find that this wonderful city is like none other. It can not be compared with Paris, because it has a life of its own. Budapest is the heart of a wonderful nation, a nation that is just now catching up with western Europe. People do not want to be compared with Paris, they want to be known as Budapest, the capital of Hungary.