Home » Regions » Iceland » Blue Lagoon - Grindavik
Blue Lagoon - Grindavik, Iceland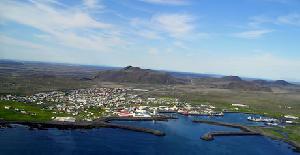 Grindavík is a beautiful Icelandic fishing town on the south coast of the Reykjanes peninsula. The Blue Lagoon, Grindavík premiere attraction, is located 3 miles from the town centre.
The Icelandic Salt fish Museum in Grindavík opened 6th of September 2002. It displays the story of salt fish production and its importance for the Icelandic economy throughout the centuries in a new specially designed house spanning 650m2.
Nature shows its might in many shapes and sizes in and around Grindavík. Earths magnificent power has surfaced in the form of frightening lava fields and cracks, craters and small canyons provide a full scale display of the movements of the tectonic plates. The ocean pounds the shoreline seamlessly and thereby takes on an important role in shaping the land. Its no wonder that a number of prominent artists have searched for -and found -inspiration in the nature of this area.
East of Grindav√≠k, Krysuvik, Selatangar, Festarfjall and seemingly endless lava fields are among places to see. To the south, the Atlantic Ocean stretches all the way to South America! West of Grindav√≠k, there¬īs Reykjanes and the Reykjanes light house, Gunnuhver (Gunnu Geyser), Brimketill, Eldvorp and a multitude of other interesting phenomena, sure to play with your senses. The Blue Lagoon, Svartsengi and Thorbjorn are north of the town.
Thorbjörn stands about 250 meters tall and is very accessible by foot. The stroll up there is very rewarding - a great view of almost the entire Reykjanes peninsula. Gjain at Svartsengi takes advantage of the latest technology to create a multimedia show which displays the geological history of earth and Iceland, the Reykjanes peninsula and Svartsengi in particular. A visit to Gjain heightens the experience of exploring the areas nature as the newfound learning allows you to look at it from a new perspective.
Life in Grindavík has to large extent evolved around fishing since the time of its settlement in approx. 934 A.D. It now has one of the liveliest harbours in the country.
In the pas few years, Grindavík has grown significantly as a tourist destination. Grindavík Golf course is a picturesque links course. It winds its way by the shoreline and into the lava fields, creating a great variety of holes. Vik horse rental offers riding tours with the guidance of locals. Grindavik swimming pool is only a couple of years old, very clean, with a hot tub and steam bath. A dip in the pool or the Blue Lagoon is an essential part of a trip to Grindavík. We have five restaurants in Grindavík - so nobody has to leave us feeling hungry. We also have a car rental, banks, shops, a hotel and a camp site which is free of charge