Home » Regions » Norway » Andenes
Andenes, Norway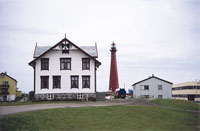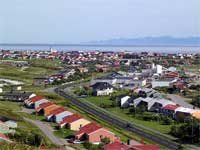 Andenes is the community Center in Andøy kommune municipality) in the Vesterålen and Lofoten region of northern Norway.
Since 1988 Andenes has been the main center of european Whale Watching, as well as a field station and meeting point for whale researchers from different countries.
Andøy lies at a latitude of almost 70º, and is further north than either Kautokeino in Finnmark or Murmansk on the Kola peninsula. However, thanks to the Gulf Stream the climate is relatively mild. Oslo has 24 more days of winter per year than Andenes. Andenes has the midnight sun from 19 May until 25 July. Andøya has been described as a geology textbook, with the youngest and oldest type of rock. The Ramså field on the eastern side of Andøya is the only place on the Norwegian mainland with oily rocks from the Jurassic limestone period. Three of the marshy areas of Andøya are nature reserves. The largest of these is Skogvoll. Andøy is also one of Norway`s best known cloudberry areas. Andøy`s highest mountain is Skrivartind on the island of Hinnøya, 890 metres above sea level. Ramnan peaks and Måtind are in the northern part of Andøya are popular destinations for hikers. Andøy has 231 kilometres of shoreline. Bleikstranda is a 2,5 kilometres long sandy beach. There is definitive evidence of settlement from 1400 BC. At Bakkan near Bø there are remains of two Iron Age farms and one mediaeval farm.