Home » Accomodations » Hotels » Denmark » Aarhus
Hotels In Aarhus, Denmark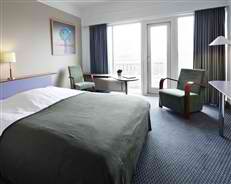 First Hotel Atlantic in Aarhus is located by the waterfront in Aarhus overlooking the city and the harbor. Staying at First Hotel Atlantic you are only 2 minutes walk from the main shopping streets where you will find a wide range of interesting boutiques, restaurants and cozy cafés. As our guest at First Hotel Atlantic in Aarhus the options are many to enjoy music and experience art galleries and museums such as ARoS, Den Gamle By and Moesgaard Museum. Being a University City Aarhus is the home city for many students and that characterize the atmosphere and the city life which is always buzzing.
The Radisson SAS Scandinavia Hotel Aarhus which is part of the sparkling new Scandinavian Center in the heart of this country's second-largest city. A modern complex including an atrium arcade, it also embraces the spacious Scandinavian Congress Center and Concert Hall Aarhus. This is a place of genuine possibilities for business or pleasure.
Montra Hotel Sabro Kro is situated in one of the most beautiful areas of Denmark. By car you can travel to many attractions and places of interest on a day trip and still get back to the hotel in the evening to relax and recuperate!
Modern hotel in the middle of Aarhus with a unique location to shopping, attractions and transport options. One of our best hotels for those of you who travel on weekdays or enjoy a weekend stay. Don't miss out on a great steak in our popular restaurant, The Grill.
Stay at the Scandic Plaza hotel in the heart of central Aarhus, 30 minutes from Aarhus Airport. Unwind in the sauna, fitness room and whirlpool. Aarhus attractions like the Old Town are within 15 minutes walk. Do business in one of 5 meeting rooms and enjoy wireless internet access throughout the hotel.