Home » Accomodations » Hotels » Iceland » Hella
Hotels In Hella, Iceland
Fosshotel Mosfell is a Tourist Class hotel offering 35 rooms with shower/wc and 18 rooms with shared facilities. Other facilities include a rustic furnished breakfast room, a sitting & TV lounge, internet station, a small conference/video room and parking. The dinner restaurant is located across the street in one of the local restaurants.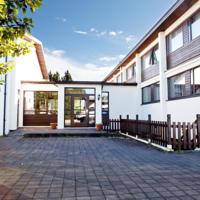 Hrauneyjar is a short distance from many of the most beautiful and popular tourist attractions in the highlands. A paradise for those who wish to come in contact with the powerful forces of untamed Icelandic nature. After opening July 2005, Hotel Highland is the only hotel of real standard operating in the interior of the Icelandic Highlands. It is an ideal place to relax and enjoy the beauty of nature with modern facilities such as private bathrooms. It is an excellent place for meetings and conferences. The upgraded conference room seats up to 50 people in different arrangements and is equipped with all the modern facilities that make a conference hotel. Other features including a cocktail bar, a dining room with an a la carte menu, an outdoor hottub, a sauna, a solarium, wireless internet, flatscreen TVs, private bathroom facilities in all rooms and even our own helicopter pad. An airstrip for smallcraft airplanes is also nearby. Hotel Highland is open June 1 to September 30. It is also all year round for groups or special confirmed requests.
Landhotel is a brand new hotel, just opened in June 2019. It is an elegant four star hotel. The hotel architecture and its interior is inspired from the surroundings and has total of 69 rooms all of which are very spacious and all have a fantastic views to the higlands, lowlands and midlands.
Hotel Ranga is a luxury countryside resort. Built in rustic log-cabin style, the hotel is located on the banks of the famous salmon river Eystri-Ranga (#1 in Iceland 2004 + 2005) between Hella and Hvolsvollur and only 96 km east of Reykjavik right off the main road. It's ideal location offers something special for the visitor on a year round basis and gives you a real taste of Iceland only found in the countryside. Hotel Ranga was incidentally chosen by Octopus Travel in 2004 as earning "The best Icelandic Country Hotel". It is also the only 4 star hotel found in all of South Iceland. In the lobby you will be greeted by a towering 10-foot tall polar bear, a favorite for photographers. The hotel has 27 tastefully decorated rooms, an acclaimed restaurant, a bar, a meeting room and much beloved outdoor hot tubs - where there is an excellent chance to view the fantastic northern lights during September - April. Luxury Dining The Hotels highly respected and romantic gourmet restaurant seats 60 people. The emphasis is on excellent yet personal service and the highest quality food using organic local ingredients with a touch of the modern Scandinavian kitchen. A splendid river view from the restaurants windows adds to the diner's enjoyment. The original house specialties include an award-winning fish soup; a salmon, char and halibut platter; a domestic variety of "Surf and Turf" with a combo of Icelandic lamb & lobster; and a chocolate & skyr (cheese) cake mosaic. The wine list and the selection of vintage champagnes, whiskeys, sherries, cognacs and cigars is presently unchallenged in Iceland outside the capital, and can all be enjoyed upstairs in the cognac lounge. All areas except for here in the hotel are non smoking. All throughout the year the hotel features combined 4-course dining and lodging offers with seasonal themes, allowing you to feel like royalty but still at a reasonable price. Hotel Ranga also features a legendary Scandinavian Christmas Buffet, where over 60 different mouthwatering dishes from all the Scandinavian countries are delicately prepared and served.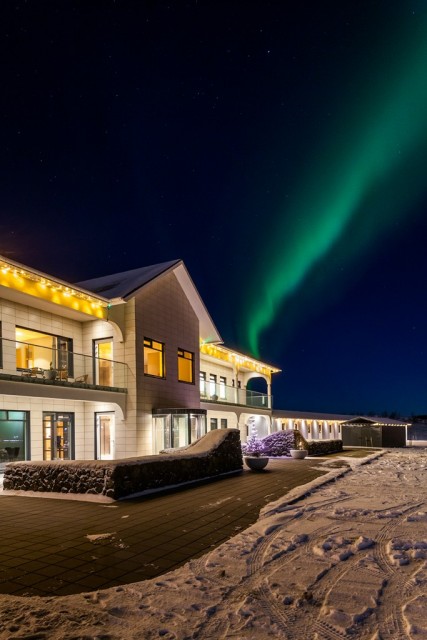 Stracta Hotel Hella South Iceland, invites visitors to Iceland and its guests to enjoy the comfortable atmosphere and delightful experience of the hotel. We wish to provide a smooth and welcoming overall visitor experience. All our guests are welcome to use the hotel saunas and hot tubs, located in the hotel garden.