Home » Accomodations » Villa Soderas Restaurant Hotell
Villa Soderas Restaurant Hotell
Swedish Countryside Hotels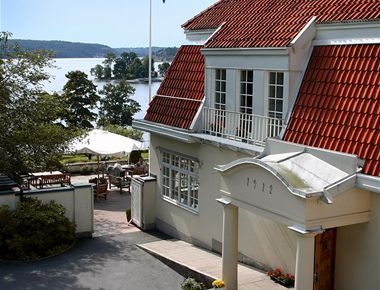 Villa Soderaa has a magnificent seaside location, jetty and view over the Swedish capital and the boating community. Villa Söderås enjoys a remarkably delightful location in the inner archipelago of Stockholm. Lidingö Elfvikslandet is a traditional cultural landscape, and the meeting between this rural environment and the sea will soothe almost any soul.
No matter whether you want to spend an hour relaxing over coffee and home-made cakes on our terrace, a delicious dinner in our restaurant - Verandan - or hold a professional business meeting against a background of magnificent countryside, beauty and fine fare, you can be sure of personal care and service of the highest calibre.
Lidingö Gastronomy is the name of a working relationship between Villa Södrås and some of the most highly skilled players from the world of food and drink in Sweden.
The collaboration involves famous names such Andreas Larsson, the current World Champion Sommelier, Michel Jamais, the well-known sommelier and TV4+ celebrity, and Mattias Larsson, Villa Söderås own star chef, with a wealth of experience from many well-known eateries. Together with this stars, we provide lessons in the complete taste experience.
Location
The hotel has a seaside location in the rural area of Elfvikslandet, just 15 minutes from all the attractions of the big city. Villa S√∂der√•s is just 35 minutes from heart of Stockholm City by bus or underground - and just 15 minutes away by car! Theatres, museums, shopping, restaurants, nights clubs - you can really have a ball in Stockholm before returning to Villa S√∂der√•s for a good night¬īs sleep. The most famous tourist attraction on Liding√∂ is Millesg√•rden, the home and atelier of Carl Mille, which houses Carl Mille¬īs sculptures along witj work by other artists. Concerts are held in the summer, and separate exhibitions are hosted all year round. Long walks along the beach and through the delightful countryside are treats to be enjoyed in our region.
Room Info
Rooms in several buildings
Rooms w. dogs are allowed 1
Familyrooms 2
Guestlounges 3
Disabled-friendly rooms 1
Singlerooms 13
Doublerooms 24