Home » Accomodations » Villa Gransholm
Villa Gransholm
Swedish Countryside Hotels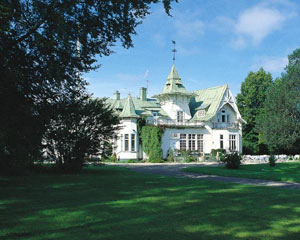 This stylish villa, built in 1902 for a local dignitary, is today a charming small hotel set in spacious grounds. Elegant public rooms and bedrooms are furnished individually to a high standard. This is a small turn-of-the-century hotel with personal service. Hosts, Mr and Mrs Rehnström, place great emphasis on food and on creating superb local dishes.
Many activities are availalbe inclduing billiards, croquet, boule, cycling, golf (3 18-hole courses in the vicinity), and canoeing.
Local activities include shopping for glass and crystalware at the famous glassworks (45 km) and visiting the Lessebo hand-made paper mill. At VÀxjö there is an interesting mueum with exhibitions on glassmaking and emigrations. The hotel has a long list of suggested excursions!
Location
The hotel is located in the countryside, at the heart of the glassworks region, between VÀxjö (15 km) and the railway junction town of Alvesta (10 km). It is 190 km from Helsingborg, 230 km from Göteborg and in lovely varied country, close to many lakes.
Room Info
Singlerooms 1
Doublerooms 12
Guestlounges 3