Home » Accomodations » Thon Hotel Opera
Thon Hotel Opera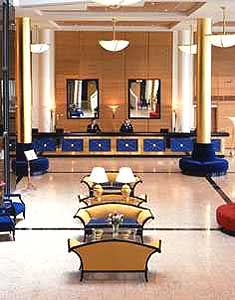 Thon Hotel Opera is a business hotel located next to the exit of the airport express train at Oslo Central station. From the hotel you have a perfect view of the Oslo fjord and Oslo in general. The Hotel opened in May 2001 and is furnished in a modern and classic style. This is a full service hotel and all rooms are well equipped.
All of the guest rooms are comfortable and nicely equipped, decorated in a classic style. Some rooms are equipped with a bathtub, and others with a shower. Rooms come with either carpet or parquet flooring. The hotel also has a variety of facilities and services that are sure to meet the needs of both business and leisure travelers.
Location
Thon Hotel Opera is favorably located almost on the platform of the Airport Express Train at Oslo Central Station. As our guest you will enjoy all the conveniences a 4-star hotel positioned in the heart of the city center can offer; public transportation, taxis, a car park and a vast selection of shopping and leisure opportunities can be found right outside the door.
Room Info
The hotel consists of 434 rooms of different categories, including: 2 top suites, business rooms, junior suites, double rooms and budget rooms. The majority of the rooms offer a view over either the fjord or the city. Half of the rooms have parquet floors, and all rooms are well equipped. The hotel also offers a fitness center, with sauna and sun-bed facilities.