Home » Accomodations » Summit Narutis Hotel
Summit Narutis Hotel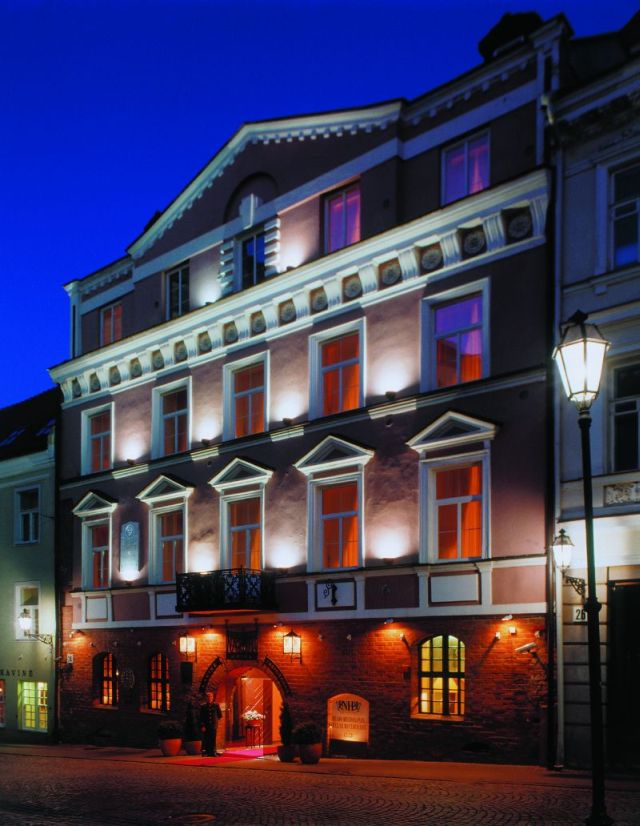 Explore the Old Town of Lithuania's lively capital and discover winding streets, hidden courtyards and ancient church spires. In a prime position on the main artery of the Old Town, Hotel Narutis is a unique place to stay. An architectural monument dating from the Middle Ages, the hotel has many charming features, including an inner courtyard filled with flowers and flooded by natural daylight. Each of the rooms is individual; original 16th-Century beams, timber-framed floors, Gothic vaults and amazing frescoes all contribute to the character. Rooms look out over beautiful squares and quiet courtyards to Gediminas Castle and the Hill of Three Crosses beyond.
Room Info
The Narutis Hotel has 50 rooms including 2 Suites with Turkish bath (hamam) and Jacuzzi, 7 Junior Suites (choose room with balcony or 16th century frescoes or one of the Duplex Rooms). The Hotel practically does not have two rooms that would be the same. Each room has its own face with unique frescoes, wall paintings, original 16th century beam ceilings, timber-framed floors or Gothic vaults. Our guests enjoy the unforgettable views of Vilnius Old Town (St. Jonas church, Gediminas Three cross and Bekesas hills) through the windows.
At the end of 2000 all rooms of the Hotel were redecorated under the supervision of the French architect and designer Anne Toulous. For the rooms she selected stylish and comfortable Lithuanian and French furniture, elegant curtains and bedspreads, soft and noise absorbing carpeting for the rooms and corridors.