Home » Accomodations » Sauntehus
Sauntehus
Danish Castles & Manor Houses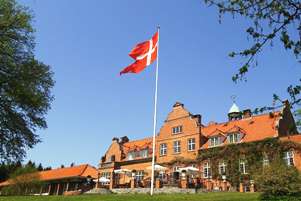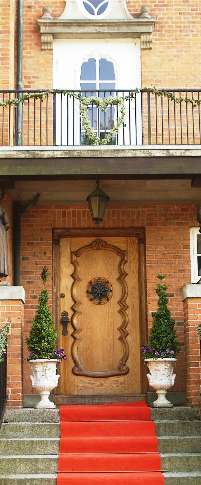 Sauntehus Slotshotel is situated in North Zealand, only 30 minutes drive from Copenhagen and near Hornbæk plantation, the oldest plantation in the country, which was planted in 1793. The fishing hamlet has inspired many painters of the Golden Age, for instance, Jens Juel and poets as Holger Drachmann and August Strindberg, who have found inspiration in the beautiful surroundings.
Facilities inside the old building include a restaurant, wine cellar, swimming pool, conference rooms and beautiful hotel rooms.
Sauntehus provides the perfect setting for special occasions. The castle hotel is the ideal venue for christenings, weddings, private parties, receptions, workshps, board meetings, seminars and many other events, with capacity for up to 140 guests.
The wine cellar is open Saturday from 13:00 till 16:00.
Every Saturday at 16:00, there is wine tasting in the cellar. The guests have the possibility to taste 6 selected wines from our own production and from import.
Location
The estate is beautifully situated near Hornback in North Zealand, and is surrounded by an exceptional park with rare trees and bushes.
Flanked by the castles Kronborg and Frederiksborg, Sauntehus is situated in a fashionable neighbourhood, and the short distance to popular beaches and golf courses makes this area a well chosen starting point for Zealand's. attractions - Copenhagen's sights are but some 30 minutes' drive away.
Access:
From road no. 213. Turn at road sign to Saunte
Room Info
There are 31 rooms in the main building, all with canopy beds. The park is an oasis with many rare trees and bushes. The tree of life, Tuja Plicata, is 30 meters high and 50 meters in circumference.