Home » Accomodations » Pensionat Styrso Skaret
Pensionat Styrso Skaret
Swedish Countryside Hotels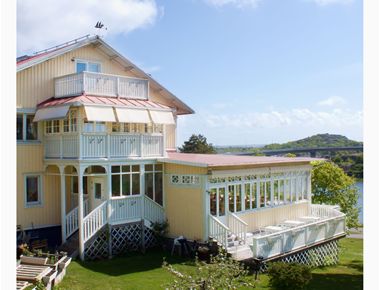 Our guest house provides a snug haven where guests can sooth their souls and enjoy inspiring walks on the rocks at the edge of the sea. The sea view is constantly captivating with its unique beauty, from day to day, season to season.
We offer comfort and luxury in an old world setting. All the guest rooms are uniquely and individually decorated - some are romantic with lace and embroidered trim, others have a maritime theme with period antiques that tell a story of life at sea.
Location
Styrsö Skäret Guest House stands on a traffic-free, picturesque, little island in the middle of the beautiful and unspoiled archipelago of Sweden's west coast, just half an hour by ferry from Gothenburg. If you are driving, you park your car on the mainland and then simply board one of the ferries that run several times daily to Styrsö.