Home » Accomodations » Kulusuk Hotel
Kulusuk Hotel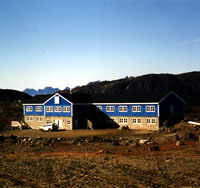 On the island Kulusuk there is a small settlement Kulusuk, with approx. 300 inhabitants. The main occupations are hunting and fishing supplemented with arts and crafts of high quality for which the village has obtained quite a reputation. In 1997/98 a hotel with 30 rooms was constructed approx. 2 km from the village. Apart from overnight at the hotel, it is possible to go camping. In the village you will also find a Pilersuisoq shop.
Location
Located 1 km from the airport and 2 km from Kap Dan.
34 rooms with private facilities, TV and coffee & tea amenities.
Hotel facilities:
Souvenir shop, restaurant and bar with a fantastic view over the ice filled fiord. Full board during stay.