Home » Accomodations » Kohlswa Herrgard Hotel
Kohlswa Herrgard Hotel
Swedish Countryside Hotels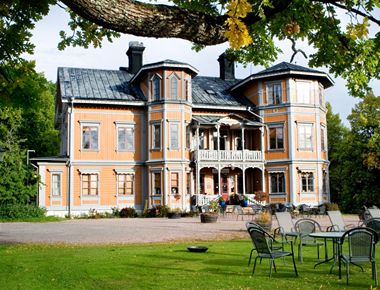 Kohlswa combines culture and modern comforts in a living piece of Swedish industrial heritage. Enjoy a lovely setting on beautiful grounds.
There are many activities available including golf, shooting, horseback riding, cultural activities, excursions, canoeing and beer, whiskey and wine tastings.
Location
Kohlswa is beautifully set in the lovely countryside between Fagersta and Köping (which is 10 km to the south-east). Follow road 250 from Köping and the E18. Nearest airport Västerås. Nearest railway station Köping. Sights worth seeing nearby are Astley Gallery, Köping motor museum, Tängsta crafts, Gisslarbo ceramics, Guttsta brewery, and Åsby gardens.
Room Info
Singlerooms 18
Doublerooms 30
Rooms where dogs are allowed 3
Room with jaccuzzi 3
Familyrooms 3
Minisuites 1
Rooms in several buildings
Guestlounges 5
Open fire place and bar