Home » Accomodations » Icelandair Hotel Herad
Icelandair Hotel Herad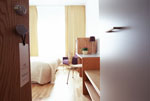 + Contemporary new look
+ Luxury rooms
+ Midnight sun terrace
+ Modern Icelandic cuisine with a European twist
+ 24hr room service
The comfortable bar at the hotel has a balcony where you can enjoy the midnight sun, while relaxing after an exciting day. The restaurant offers a tasty menu, exciting starters, fresh fish dishes, Icelandic lamb, East-Icelandic Reindeer steak, the pride of the house and delicious desserts.
Location
Fljotsdalsherad district extends over the basin of two large rivers: Jökulsar Dal and Lagarfljot. Both merge at Heradsfloi bay a short distance from a natural paradise, Husey.
Mt. Dyrfjoll rises majestically over the community at Utherad.
Egilsstadir is situated at the point where Highway 1, and roads that lead to the fjords, converge. Egilsstaðaflugvollur is an international airport, and the regions primary airport.
The Lagarfljot River is home to the Lagarfljotsormur serpent (Laggi). It has lived there for many centuries, and frequently his head and hump have emerged from the deep triggering both fear and curiosity. It is not long since he was last spotted.
Opposite Egilsstadir on the other side of the Lagarfljot bridge is Fellabær. A popular 9-hole golf course is located at Ekkjufell.
Hallormstadarskogur, Icelands largest forest grows along the banks of the Lagarfljot River. The popular tourist destination, Atlavik, is situated there, as is the Forestry Services Trjásafn, a museum unlike any other in the world and a joy to explore.
The Institute of Gunnar Gunnarsson operates a cultural and educational centre at Skriduklaustur, in the mansion that writer Gunnar Gunnarsson built. Not far away is Hengifoss, one of Icelands highest waterfalls, sharing a columnar basalt ravine with Litlanesfoss falls.
Snæfell (1832 m) is one of the tallest mountains in Iceland, towering majestically over the Fljótsdalsherad district like a crown in natures creation.
Room Info
Standard rooms - 60
Twin or double beds, satellite TV, telephone, walk-in shower and hairdryer. The rooms have parquet flooring. Size 25 m2
An extra mattress for a 3rd person is only available for children younger than 12.