Home » Accomodations » Hotel Klettur
Hotel Klettur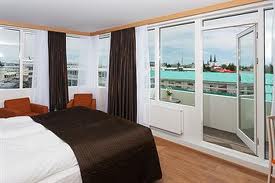 Hotel Klettur is a beautiful first class hotel, a stone's throw from downtown.The hotel has 86 rooms, of which there are 66 Standard rooms and 20 Deluxe rooms. 10 of the Deluxe rooms have private balconies and the other 10 have a great view overlooking the bay and surrounding mountains. The hotel has a beautiful lounge on first floor and a breakfast room where breakfast is served. There is not served lunch or dinner at Hótel Klettur. There is also a nice and well-equipped meeting room with an overhead projector and a screen.
The hotel's name is derived from the rock that is on the first floor of the hotel and bursts out through the wall. The hotel's look and interior gets its inspiration from Icelandic nature, especially the Icelandic rocks.
Icelandic folktales are filled with stories about elves that live in rocks around the island. While working on roads and house building, many road builders and workers have had to make drastic changes to their plans because they could not move big rocks that where blocking their way. There is a strong believe that the elves living in the rocks are the cause.
The origin of the elves in Iceland (álfar in Icelandic) goes back to Germanic paganism and mythology. They were originally a race of minor gods associated with nature and fertility.
Elves are usually invisible, but can be seen if they feel like it. They can be helpful and kind to those who do them no harm, and repay favours with favours. On the other hand, they can also be malicious and take revenge if harmed.
On the first floor of Hótel Klettur there is a rock breaking through the wall and even if it is not known for sure, one can imagine that this was done to keep the elves in the rock happy. The rock beside the hotel could also well be an entrance to the home of the elves on the first floor. Therefore the first floor has, in part, a theme connected to the elves.
There are many great restaurants close by the hotel