Home » Accomodations » Esplanade Hotel
Esplanade Hotel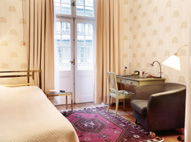 People stayed here for half a year or longer when they first moved to Stockholm. Breakfast, lunch and dinner was served and everybody had their place in the dining room. The house was considered modern at the time and 3 rooms had private bath and the rest shared along the corridor. Much of the light birch wood furniture that was made especially for the rooms is still here. The chairs in the dining room are the very same. It is not officially said but the architect Ferdinand Boberg has designed some of the furniture and it was made at the NK workshop in Nykoping.
In 1954 it was turned into a hotel and taken over by the Association of Swedes living abroad (translated it comes out like that). They kept it until 1986 and made some modernizing over the years, such as putting private shower/wc in all rooms except 4. 1986 Maria Sand and her family bought the hotel and carried on with the modernization without destroying the original Jugend Style (Art Nouveau).
The building was completed in 1910 and the 2 floors we have were originally made for a boarding house called Dehns Pensionat.
Breakfast, served in the original art-nouveau style Breakfast Room, is included. We serve a breakfast buffet and we have a license for beer and wine for the hotel guests.
We have many repeat customers, both regular business travelers and people from he film industry, artists and writers (Norman Mailer, Liv Ullman, Billie August) Hotel Esplanade combines an excellent location with the pleasure of personal service and a feeling of a home away from home. The building itself has also been restored on the outside to its former splendor.
Location
Located in the heart of Stockholm.
Room Info
32 Rooms. All rooms now have private facilities, individually decorated and fitted with shower, WC, Radio, Cable TV, Minibar and Trouser-press. We have a sauna. Constant renovations have been carried out since 1995 and all rooms now have newly tiled shower/bathrooms (wooden floors) and are freshly painted and wallpapered. 24 hour full front desk service.