Home » Accomodations » Edda Laugar Hotel
Edda Laugar Hotel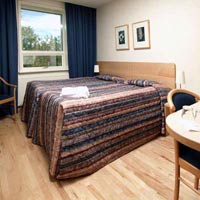 Hotel Edda's facilities at Hellissandur were opened in 2001, so everything is of the highest standard. Lift, and good wheelchair access to restaurant, WCs and guest rooms. The hotel has a bar/lounge and restaurant. The hotel is three-star, i.e. it is classed as Hotel Edda Plus.
Location
Across the road from the hotel are conference facilities for up to 100 people in the Rost community center. The hotel's restaurant can also be divided up into smaller units for meetings of 10-30 people.
Room Info
All rooms are double rooms, 21 m2 with TV, radio, radio alarm, telephone, hairdryer and private bath. One room is especially equipped for wheelchair access.