Home » Accomodations » Conti Hotel
Conti Hotel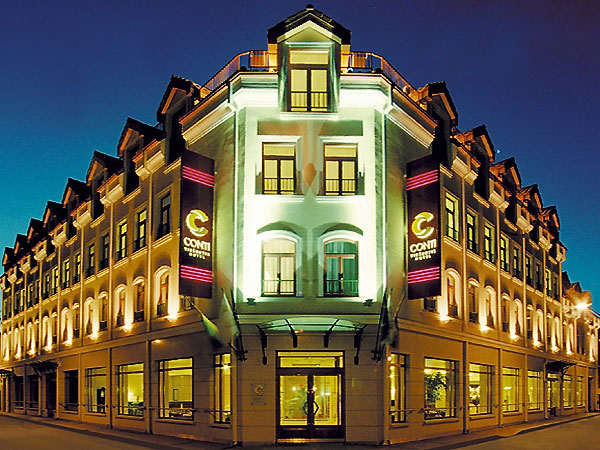 The CONTI hotel is situated in an excellent location right in the Old Town of Vilnius. From its top floors the hotel offers impressive panoramic views of the city.
The hospitable and highly competent staff enhances the hotels atmosphere of harmony created by its colourful artistic presentation. The distinctive feature of the specially trained, foreign-language speaking personnel of the CONTI hotel is their professional know-how and utmost respect for the customers.
Room Info
Our 88 guest rooms that can accommodate up to 176 guests are always at your disposal. A variety of guest rooms, including single rooms, double rooms, business class, deluxe class and suites, provides an extensive freedom of choice. The overall atmosphere of the hotel, its architectural elements and the classically elegant interior reflect the spirit of the Old Town. Notably, in the 19th century, the present hotel area was inhabited by Jew merchants. The guest rooms are decorated with authentic photographs of the Old Town of Vilnius from a personal collection, and the lobby features a cascading fountain-waterfall.
A wide range of guest-room conveniences and the specially designed high quality furniture fulfil even the most demanding guests expectations. The sound-proof double-glazed windows and light-proof blinds are designed to keep the downtown noises and lights away so that you can enjoy your undisturbed rest. Every room has an individually controlled air conditioning system, an internet connection, satellite television, direct dial telephone, and a mini-bar. To meet the needs of our clients, some of the rooms can be arranged into connecting rooms. In addition, the CONTI hotel, with its specially equipped guest rooms and bathrooms, is particularly adapted for disabled guests.