Home » Accomodations » Borg Hotel
Borg Hotel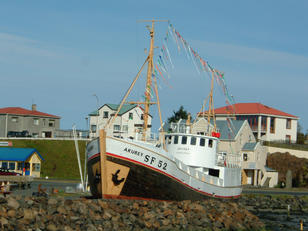 Hotel Hofn was founded in the year 1966 and is one of the best established Hotels in the country.
It is located in the center of Hofn and has a breathtaking view over the magnificent glaciers, the circle of mountains and the fjord.
Hotel Hofn is a 3 star Hotel with 36 comfortable rooms all equipped with a TV, radio, telephone, computer access and a private bath.
A dining room/board room, seating 140 guests is situated at the top floor. A smaller restaurant "Osinn" featuring lighter courses such as pizza and local food is on the ground floor.
The hotel has a bar and great facilities for conferences and all kinds of gatherings.
Location
Hotel Hofn is located in the center of town but has a magnificent view in all directions as Vatnajokull the glacier crowns the surrounding mountains with its icecap.
The golf course is ten minuets away on foot and so is the harbor front.
Room Info
All the rooms are equipped with the following:
* A private bath
* TV
* Satellite TV
* Telephone
* Computer/internet access
* Hair dryer
* Terrific view of the mountains or the ocean from most of the rooms.