Home » Accomodations » Bjorknasgarden Hotel
Bjorknasgarden Hotel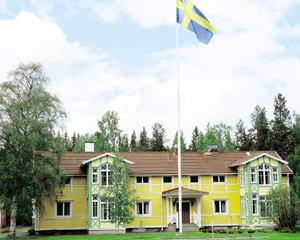 Until about 100 years ago, Björknäs, with its beautiful location by Lake Revsundssjön, was the site of an estate alloted to soldiers in the Swedish military system. It was later turned into an accommodation for the manager of the important local timber industry (logs were floated from here down to the coast). The venerable and industrious old steamer Alma made regular stops at the jetty at Björknäs. Today Björknäsgården is a modern hotel offering discerning guests high standards of accommodation, comfort and service.
Many activities are available including excursions on the lake-steamer Alma (dating from 1874), fishing, walking, canoeing ,rowing, downhill and cross-country skiing, snow-scooter safaris, and dog-sledging. There is a sauna and restaurant available.
Location
Bjorknasgarden is located on the shores of Lake Revsundssjön in a garden crisscrossed with walkways. The River Gimån, famous for its excellent fishing, is just a stone´s throw away. The hotel is 2 km from the E14 between Sundsvall and Östersund.
Room Info
Singlerooms 16
Doublerooms 11
Suites 7
Rooms in several buildings
Familyrooms 7
Guestlounges 3 - with open fireplace and bar
Disabled-friendly rooms 20