Home » Accomodations » Artis Hotel
Artis Hotel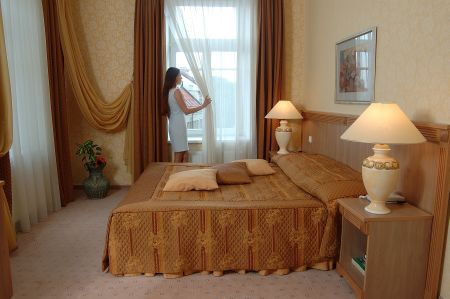 Hotel Artis, located in the center of Vilnius, is a stylish 4 star hotel which opened in 2001.
The hotel has a restaurant, bar and conference room for 20 persons. On July 2003 the new part of the hotel was opened with 37 twin rooms, a conference hall for 70 people, swimming pool, sauna and Turkish sauna.
Location
Located in the old town of Vilnius, the hotel ARTIS is situated in the renewed 19th century building. The majority of the remarkable historical objects of Vilnius are within an easy walking distance.
The International Airport of Vilnius and the railway and bus stations are within the distances of 7 km and 3.5 km respectively from the hotel ARTIS. Near the hotel, there is also a free of charge guarded car parking lot for guests.
Room Info
We can offer 65 classical style rooms: 50 doubles, 11 singles rooms and 4 luxurious suites. For your convenience, the ARTIS features air-conditioning system, satellite TV, pay TV channels, telephone, constant internet access, minibar, personal belongings safe box, hair dryer, peephole, hasp and electronic keys.