Home » Accomodations » Ararat Park Hyatt
Ararat Park Hyatt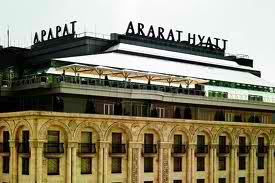 Ararat Park Hyatt Moscow is located in the very heart of the city, one of the best situated 5 star luxury hotels in Moscow. Just a few minutes' walk from iconic landmarks such as the Kremlin, Red Square and Saint Basil's Cathedral, the Moscow hotel is also within the immediate vicinity of the famous Bolshoi Theatre. Parliament House, the central business district and the luxury shopping malls TsUM and GUM for those seeking to enjoy the wonderful shopping in Moscow, are also nearby.
The personalized service and outstanding quality offered by our timeless, residential style luxury hotel, which caters to the discerning traveller seeking privacy, luxury and elegance, distinguish Ararat Park Hyatt Moscow from other hotels in Moscow.
The 206 tastefully furnished rooms, including 32 expansive suites, comprise some of the most spectacular Moscow accommodation available. Moreover, Café Ararat, known for Armenian specialties, the Conservatory Lounge & Bar, recognized as one of the Best Bars in the World by Architectural Digest for its panoramic views over the city and outstanding contemporary design, the elegant Neglinka Lounge, The Park Restaurant and Japanese restaurant Enoki are among the best Moscow restaurants and bars around.
Modern and elegant conference rooms and beautifully decorated banqueting facilities are venues of choice for any occasion, including business meetings and social events, as well as exquisite festivals and weddings in Moscow with attentive personalized service.
In order to meet the needs of the modern traveller, the luxury Moscow hotel is glad to offer its guests use of Quantum Spa & Health Club, featuring the latest cardiovascular technology for fitness enthusiasts alongside pure pampering and relaxation, a host of massage, body and skin treatments and our indoor swimming pool.