Home » Accomodations » Ahus Gastgifvaregard Hotel
Ahus Gastgifvaregard Hotel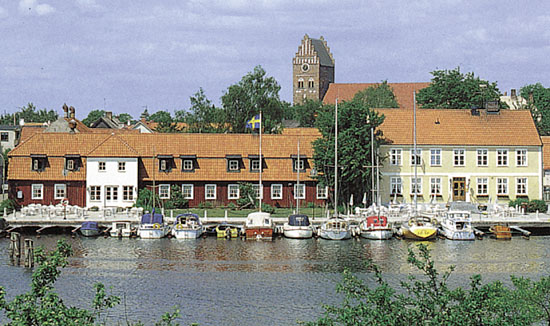 It's not often you find a traditional country inn and a sailor's tavern under one and the same roof! But here in Åhus we've been offering food and lodging since 1735. Today we boast one of the very best restaurants in the province of Skåne - with fresh fish, caught almost literally on the doorstep, our speciality. All 15 of our charming rooms enjoy a sea view. Many a ship has found its way to Åhus Gästgivaregård over the years. At the turn of the century, it was owned by a Danish army captain turned innkeeper. During his custodianship, sailors would come from far and wide to try the innkeeper's strong liquor. Those who came from inland chose to frequent the more genteel upstairs quarters!
Wake up and look out over the water and miles of sandy beaches. Excursions to the villages and coast of Österlen, the town of Kivik, apple orchard country and the Apple House, and the Stone District with its famous rocks are all available.
The restaurant of the highest quality. Activities include 5 golf courses within 15 minutes, our own fishing boat, shooting, weddings, traditional eel parties, jazz evenings, and wine-tastings.
Location
The Hotel is located by the Helgeå river in Old Åhus 17 km from Kristianstad and Everöd airport, 100 km from Malmö, and 2 hours from Copenhagen.
Room Info
Suites 7
Rooms where dogs are allowed 1
Familyrooms 5
Guestlounges 6
Disabled-friendly rooms 7
Doublerooms 40