Home » Accomodations » 71 Nyhavn
71 Nyhavn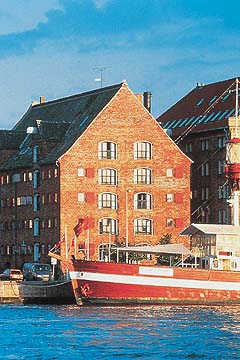 This hotel is small and intimate with character and charm, a much sought after property. Ideal for guests requiring an excellent location and cosy atmosphere.The hotel building is a converted warehouse of brick construction dating from 1804 and is actually a government protected building.
The lobby is very small, decorated in a nautical theme and retaining the traditional style of the building with exposed beams adding to the warm feel.
Location
The hotel is located on the corner between Copenhagen harbour and the Nyhavn canal. An ideal central location to all of Copenhagan\'s sights in the most sought after area of central Copenhagen. There are a number of delightful restaurants and bars within walking distance.
Room Info
The rooms are small and are in good condition. The bathrooms are all in good condition. Beams have been exposed in the rooms and dominate the decor. The superior rooms all have marvellous views of the harbour and Nyhavn.