Fludir, Iceland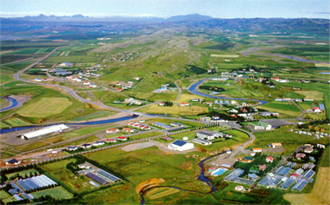 Flúðir in Hrunamannhreppur district is a fast growing community in a geothermal area in the upper lowlands of South Iceland, with extensive tourist services. It is set in attractive pastoral surroundings within easy reach of many of the countrys major tourist attractions.
The area around Flúðir is fine walking country and the adjacent Miðfell mountain is easily accessible on foot and offers a magnificent panoramic view of the vicinity. Major places of interest to visit on outings out of Flúðir include Gullfoss, Geysir, Skálholt, Þjórsárdalur valley etc.
Fludir is an inland located hamlet in beautiful surroundings. A salmon river, Litla-Laxa, runs through the hamlet and the area is very thermally active. Horticulture, greenhouse- and mushroom cultivation are among the bases of livelihood as well as industry and tourism. The hamlet has a good hotel, farm accommodations and good camping grounds. The swimming pool is excellent and other recreation possibilities make a few days stay very enjoyable. Quite a few historic sites are nearby, such as the parsonage Hruni.
In Hruni the congregation used to celebrate the arrival of the new year with dances and drinking in the church. One new year's evening, the devil pulled the whole church with its contents down to hell. The Golden Waterfalls, the Geysir Area and the Thjorsa Valley are nearby. The distance from the capital is about 103 km.
A wide range of services, combined with excellent location and a friendly atmosphere, make Flúðir an ideal choice for the traveller.