Home » Accomodations » Icelandair Hotel Fludir
Icelandair Hotel Fludir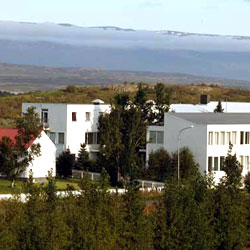 Hotel Fludit offers a peaceful environment for meetings during the week, and a romantic, relaxing weekend atmosphere at weekends. Hotel Fludir is located in an area of tourism and geothermal horticulture. Fresh vegetables from local horticulturalists feature heavily on the hotel menu. The hotel blends in well with its surroundings, and welcomes guests into its attractive foyer, with wooden floors and ceiling beams that create a warm atmosphere.
The hotel focuses on high-quality food and service. The restaurant commands splendid view of the countryside. After dinner, the hotel bar offers a relaxing environment.
Location
Located in the small farming village, Fludir, in the south of Iceland.
Hotel Fludir is about an hour's drive from Reykjavik.
Take road # 30 to Fludiir Village. Look for flags and sign: Icelandair Hotel Fludiir.
Room Info
32 standard double twin rooms; phone, hair dryer, TV and radio.