Home » Accomodations » Telegraaf Hotel
Telegraaf Hotel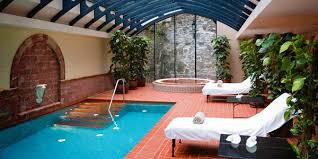 We have restored an elegant 19th century building, which was once an exchange station for the Estonian Telegraph company and transferred vital messages across the Iron Curtain during the Soviet era.
Now, the house, which was originally built in 1878, has been transformed into a unique and luxurious first class hotel. We offer you a chance to feel the mystery and ambience that has surrounded the building for more than a century.
Spend a relaxing afternoon pampering yourself in our Elemis day-SPA, followed by a glamorous dinner in our exclusive restaurant Tchaikovsky - a Symphony of Russian Cuisine. Whatever, Hotel Telegraaf offers you discreet and personalized service for each event.
It is the only hotel in the Old Town of Tallinn with underground parking facilities, and with its excellent location you are right in the middle of one of the most beautiful cities in Northern Europe.
Location
Vene Street known as the historic area of culture is one of the most favoured spots in the Old Town.
It is a centre of spirituality, education and culture, also called the Tallinn Latin Quarter. In the neighbourhood you will find the small St. Catherine church, Katariina Gild, Old Town Educational College, and the City Museum.
Town Hall Square, the heart of the Old Town, is only 70m from the hotel.
Room Info
You may select from among 86 rooms to find the perfect one that suits the purpose of your visit. Choose the combination of historic value and attractive modern milieu from one of our rooms and suites.