Home » Accomodations » Fru Haugans Hotel
Fru Haugans Hotel
Historic Hotels Of Norway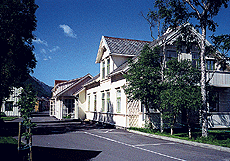 For over 200 years, Fru Haugans Hotel has been aiming to deliver hospitality and service. You can literally feel the traditions and the history when you visit the oldest hotel of Northern Norway.
Recently, the hotel has undergone considerable renovation and modernization. We have focused on keeping the antique style and the intimate atmosphere. Several of the rooms are outfitted with antique furniture. In addition, we can offer the comfort of a modern hotel.
A stay at Fru Haugans Hotel is characterized by excellent personal service. Our intimate are well suited for personal conversations. Here, you can also seek rest, silence and time for personal reflection. In our gallery, you can see more photos from our hotel.
You can go for a walk in the vigorous hotel garden, and down to the river Vefsna. Here, you are welcome to go fishing in one of Norways best sea trout rivers. Fishing equipment can be rented in the reception.
Our hotel is well known for its superb cooking, with both traditional Norwegian food as well as European dishes. We are happy to customize the menu to your needs and wishes.
Location
The hotel is located in the end of the picturesque street named Sjøgata in the city of Mosjøen. A walk up and down the historical streets with buildings dated back to the nineteenth century is highly recommended.
Room Info
In 2005, the latest development project with 8 double guest rooms in the oldest part of the hotel, dated back to 1866, was finished. These rooms are recreated in an old but also functional, style. The rooms are equipped with old Norwegian furniture and wallpaper specially approved by the Directorate of Cultural Heritage.
Room overview
Number of rooms in total: 76
Number of beds: 130
Number of allergy rooms: 27
Number of suites: 2
Number of room for women: 3
Number of rooms for disabled: 3
Number of rooms for smokers: 38
Standaard Room
Cable TV
Phone
Courtesy bar, bath-shower and WC
Available: Hair dryer and flat iron