Home » Accomodations » Dalen Hotel
Dalen Hotel
Historic Hotels Of Norway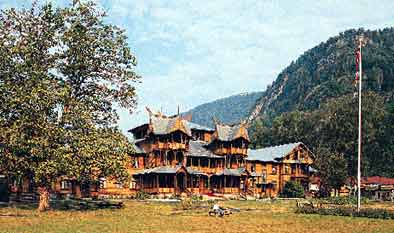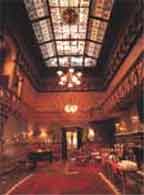 Spectacular Dalen! An enchanting fairytale hotel from 1894 that has been meticulously restored to its natural beauty. An ochre and brown building, with dragon heads, turrets and cornices. A palace with dragon style shapes. A splendid garden fronts the hotel to the east, towards the lake. The passenger ships "Victoria" and "Henrik Ibsen" ply the Telemark Canal from Skien to Dalen from May to September. The interior lives up to the richness promised by the exterior. A feeling of grandness, of pomp and ceremony is still present today. You meet the great two-story central hall with its large glass painting in the ceiling, and with doors to the three lounges facing the garden.
The interior with carvings, ornaments, sculptures and sloping panels reminds us of those grand times our grandfathers and great-grandmothers experienced. When the hotel was restored in 1994, all 38 guest rooms were provided with private baths. But the hotel still gives you the experience of a grand hotel as it was during the �Belle �poque� of the tourist hotels, before World War I, here at Dalen Hotel.
Location
The Hotel Dalen lies in the heart of the county of Telemark, at the head of the long and narrow Bandak lake.