Home » Accomodations » Hotels » Denmark » Aalborg
Hotels In Aalborg, Denmark
Hotel Hvide Hus, Aalborg... - is conveniently located in the beautiful setting of Kildeparken with a magnificent view of the town. With its 198 rooms and big new conference centre for 400 people, not to mention its panorama restaurant and Pejsebaren on the 15th floor, the hotel is the region's most exciting venue for meetings and conferences west of the Great Belt. Aalborg itself has both the cultural amenities of a pulsating city and the intimate charm of a "small" town, with pedestrian streets offering absorbing shopping and flourishing café and restaurant life, including several establishments of international class. And, at more than 1,000 years old, the town has all sorts of exciting stories to tell through attractions such as Jens Bangs Stenhus and the Lindholm Høje Viking Settlement. We will be happy to give you more tips on other things to see and do – up here in North Jutland virtually everything can be reached in less than an hour by car. Free parking facilities at the hotel.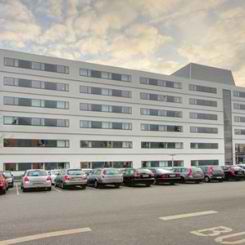 This hotel is right next to the convention centre. On a hot summer night when you want to open the windows, the noise drifts into the room and can make sleep difficult. Bathroom has no soap bars, only shower and hand gel. There is an useful grocery store near train station where you cas buy a fresh vegetables or fruit. The Quality Hotel Aalborg is ideally located just minutes from the Aalborg Zoo and many other popular area attractions. Hotel is close to Tivoli Gardens amusement park, Aalborg Storcenter entertainment facility and the North Jutland Museum of Art (Nordjyllands Kunstmuseum). Aalborg University and the Aalborg Airport are just minutes away. Facilities: 168 rooms, Opened in 2002, Pet-friendly, Internet access, Handicap accessible rooms, Smoke free, Business Center Dining: Restaurant (full breakfast buffet, Danish and International cuisine). How to get there: Hotel is located 300 m from the bus station, 300 m from the railway station. Distance between the hotel and Aalborg Airport is 6 km, 15 min journey by taxi.
Ideal for business travellers and families on vacation, the four star Radisson SAS Limfjord Hotel is in the heart of Aalborg, one of the most charming Danish cities of Northern Jylland. * Close to the Aalborg airport, our hotel is just opposite the famous café and bar street, Jomfru Ane Gade. * Most of our 188 rooms and suites offer fabulous views over the city of Aalborg and the Limfjord. * Restaurant Pascal overlooks the nightlife in Aalborg and serves excellent food in a relaxed atmosphere, while the Sunshine Piano Bar serves a range of cocktails, drinks and beers. * Casino Aalborg is located at the hotel and is the perfect place for dinner and gambling. * Guests have access to the modern exercise room, sauna and solarium in the hotel. * The hotel offers wireless Internet access (WiFi) throughout the hotel, as well as car parking in the hotel. * Our nine meeting rooms can accommodate an intimate meeting for four or an event for 220.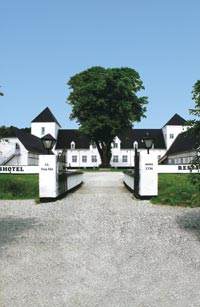 Vraa Castle Hotel is located near Tylstrup, north of Aalborg. The castle, built in 1645, is surrounded by a moat and is located in an old manor park. Vraa Castle Hotel houses a cozy restaurant that has been renovated with most care and respect for its old style and design and with an exit to the terrace and castle gardens. The Great Hall is situated on the ground floor in the main wing next to the bar and lounges. Located in Vendsyssel, 20 minutes from Aalborg Airport and a few minutes drive from the highway leading North and South, Vraa is easily accessible. The historic salons and halls are beautiful surroundings for meetings, conferences and family events. All rooms are newly renovated with canopy beds and a view to the park and moat. The castle can house 100 sleeping guests divided into 40 rooms.