Home » Accomodations » Halltorps Gastgiveri Hotel
Halltorps Gastgiveri Hotel
Swedish Countryside Hotels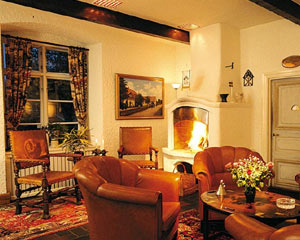 Halltorps Gastgiveri is a typical and very fashionable country inn of great charm and atmosphere, dating from the 17th century. The exquisitely furnished dining rooms and bedrooms are as pleasing to the eye as the delicacies emanating from the kitchen are to the palate!Halltorp has long been regarded as having one of the finest restaurants in Sweden.
There are many activities available including golf (3 courses within half an hour's drive, including the 27-hole Ekerum course, 1 km away), horseback riding, swimming in the sea, nature walks, and birdwatching.
Location
From the terrace and most of the inn itself, there is a wonderful view over the KalmarSund and of magnificent sunsets. The inn is 9 km from Borgholm, in the heart of the summer paradise island of Öland and close to Alvaret nature reserve and Halltorps Hage.
Room Info
Singlerooms 3
Doublerooms 30
Suites 2
Rooms where dogs are allowed 7
Familyrooms 6
Disabled-friendly rooms 2
Guestlounges 2
Open fire place
Minisuites 1
Room with jaccuzzi 1