Home » Accomodations » Fossheim Hotel
Fossheim Hotel
Historic Hotels Of Norway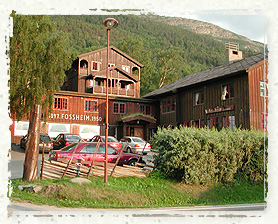 Splendid log houses built according to age-old building traditions, together with art and antiques, is all part of the setting that will permit you to relax and feel comfortable at Fossheim.
You can choose if you want to stay in a charming log house on the farm or if you would prefer to rent a room inside the main building. You can always relax in the sitting room that has an open fireplace, in the library or in the bar - always surrounded by antiques and an interior rich in tradition.
You may detect an enticing aroma originating in the kitchen and luring you down into the dining hall. Here you can enjoy food from one of Norway's best kitchens. On summer days you can also enjoy a light meal out in Urtehagen (the garden of herbs). Fossheim has 46 rooms in all at the hotel, in addition to two huts and three apartments. We can house about 100 guests. All rooms feature a bathroom/shower and WC.