Home » Accomodations » Bardshaug Herregard Hotel
Bardshaug Herregard Hotel
Historic Hotels Of Norway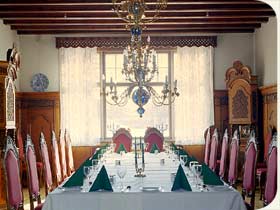 Bårdshaug Herregård was built for consul-general Christian Thams at the turn of the previous century. Christian Thams was a looming figure within business and diplomatic spheres.
Among his many guests were both kings and princes. Ask for an inspiring tour while you are here.
Bårdshaug Herregård has an array of facilities that contribute to give our guests increased comfort. We can, amongst other things, name:
- Nice park
- Restaurant
- Bar
- Lounges/sitting areas
- Ceremonial hall
- Library
- Meeting room
- Conference department
- Group rooms
We have collected a collection of menus where the names of the different menus are inspired by Minister Chr. Thams and his amazing life and history:
The Manors Banquet Menu
>> King Oscar II Menu
>> Squire's Favorite
>> Strandheim Menu
>> Diplomat's Menu
>> Consulate's Menu
>> Minister's Dinner
>> Hitra Menu
The manor house is an experience in itself, and to eat dinner in Minister Christian Thams' rooms and to experience the atmosphere of past splendor enriches this experience. Bon Appetite!
We welcome you to visit us!
Location
Bårdshaug Herregård is located at the mouth of the Orkla River, 42 km southwest of Trondheim. We offer exclusive salmon fishing and the hotel has its own fishing area with easy access and good possibilities for parking.
Our booking office can arrange transportation, accommodations, fishing areas, fishing licenses and guides or helpers. Poles and fishing areas can be rented at the hotel, and fishing equipment can be acquired.
Orkla is one of the country's few "clean" rivers, and we look forward to yet another good season.
Room Info
Bårdshaug Herregård offers a total of 65 rooms of which 9 are accessible for the disabled. The manor house's selection of historic as well as modern rooms is unique and this will ensure that our guests have a wonderful stay in pleasant surroundings.
Our guests will be well taken care of by our friendly staff.