Home » Regions » Denmark » Faaborg
Faaborg, Denmark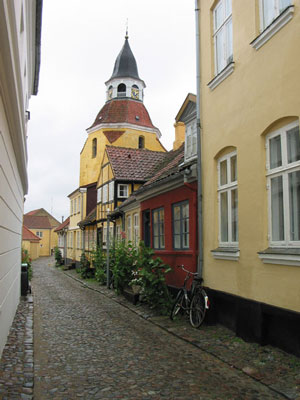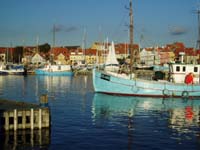 Welcome To Faaborg.
Faaborg is one of the jewels in the crown of the South Funen Archipelago. Inviting natural surroundings are perfect for hikes by the sea, cycling trips in the Svanninge Bakker (Hills) or sailing trips to one of the beautiful islands in the vicinity. Sightseeing, exciting shops, restaurants and excellent accommodation will make your stay here very special.
Faaborg has been blessed with uniquely green, lush countryside, alternating between hills, woodland and watercourses. Furthermore they have been able to conserve the old idyllic market town environment in Faaborg. The cobbled streets and lanes, combined with the lovely traditional buildings and old merchants town houses and the many specialized shops, form a charming, harmonious town centre that is quite exceptional.
Founded in 1229. Faaborg is one of the oldest provincial towns in Denmark. The medieval bell-tower soars above the many walls and red tile roofs. A walk through the merchant town of Faaborg, with its numerous well preserved residences and beautiful old merchant houses, is a unique experience. A visit to Den Gamle Gaard museum enhances this impression by providing a vivid illustration of the wealth and prosperity of bygone days. Particularly worthy of a mention are the rococo room and the exquisite collections of glass, porcelain and faience goods. The Old Town hall at the town square (Torvet) houses the local Town Archives, which are the oldest their kind in the country, as well as an exciting Prison Exhibition in the former prison which was in use until 1989.
Faaborg Museum is a gem among Danish art galleries. Here you can see the collection of the works of Funen painters, Fritz Syberg, Johannes Larsen, Peter Hansen and many more.
The imposing Bell tower is the town landmark and has one of the largest bell chimes on Funen. The tower is actually the remains of the towns first church, St. Nicholas, built in the thirteenth century and demolished around 1600.
Take A Stroll With The Night Watchmen
The night watchmen make their evening rounds in Faaborg departing from the Bell tower at 9 p.m. on Thursdays, Fridays, Saturdays and Sundays in July and August. (5/7-1/8 every day). Join them and hear amusing watchmans songs.
Tours with the Veteran Train. There is a society that is involved with renovating and running old trains. They have a fascinating collection of engines ,cars and buildings as well as tracks to run them on.
Take a trip with the Veteran Train and enjoy the beautiful nature on South Funen.