Home » Accomodations » Hotels » Norway » Alesund
Hotels In Alesund, Norway
The Comfort Hotel® Scandinavie is ideally located for business and leisure travelers. This Ålesund hotel is walking distance from the Ålesunds Museum, the town museum housing many artifacts from the turn of the century. The nearby Atlantic Sea-Park is one of the largest aquariums in northern Europe. Additional nearby points of interest include the Art Nouveau Centre, the Medieval Age Museum and the Stiftinga Sunnmøre Museum. Ålesund is the perfect place to explore some of Norway's most famous natural and cultural attractions. Ålesund is the perfect starting point for excursions to some of Norway's best-known tourist attractions, including the famous Geirangerfjord, the beautiful Hjørungfjord or dramatic Trollstigen Road. A wide selection of restaurants, cafés, pubs and nightclubs are located in the surrounding area. Ålesund is home to the annual Norwegian Food Festival with its bustling crowds and enthusiasm for food. For guest enjoyment, Kaptein Brudebar cocktail lounge is located on the premises. This Ålesund hotel features many luxurious amenities and features, including: * Free full breakfast * Free wireless Internet access on the property * Banquet and meeting rooms (up to 80 people) * Fishing boat rentals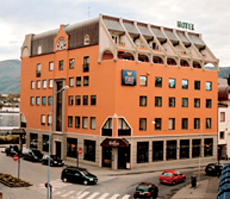 First Hotel Atlantica Alesund is situated by the old and bustling fishing port of Brosund. The hotel overlooks the fjord and has a mountain backdrop. Guests can visit numerous museums and city sights, which are all located just around the corner.
With beautiful views of the mountains and fjord, this newly opened Quality Hotel Waterfront Alesund is part of the city's historic buildings. Guests will enjoy the Art Nouveau buildings as well as take a short trip to the top of the city mountain Aksla providing a panoramic view of the archipelago, city and majestic mountains bordering the fjords.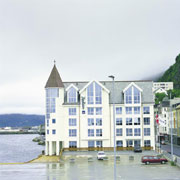 The brand new Radisson BLU Hotel is in downtown Ã…lesund and offers fabulous views of the mountains rising from the deep blue sea and the nearby islands. The hotel has an established cooperation with cultural events and adventurous trips in the town and guests can join the tours to the world famous Geirangerfjord and the wild waterfalls there. North Sea blends with the Mediterranean at the Bulls Brygge, the all-day dining hotel restaurant, while the hotel bar is the perfect place to unwind with a drink. Guests can enjoy a fabulous sunset, a light meal and drink at our private quay where coastal steamer, Hurtigruten, arrives twice a day and puts on quite a show. The hotel has eight meeting rooms and can accommodate up to 350 delegates, theatre style.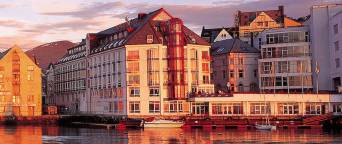 Scandic Ã…lesund is in a distinctive seaside location, with a salty tang in the air. Youll find yourself surrounded by typical Ã…lesund features: the Moljagapet, Skansekaia and the 'Ã…lesundet'. Our restaurant, Molja, offers tasty local specialities with exciting additions from around the world, served in maritime surroundings. Opposite Molja is the Ba(r)bord bar, the place to meet before or after a meal. Here you can enjoy light refreshments while relaxing with a newspaper and a coffee - youll find it refreshing to sit in the warmth while a storm rages against the windows. Several of our rooms have recently been refurbished in accordance with Scandics environmental standard.