Home » Accomodations » Hotels » Iceland » Hofn
Hotels In Hofn, Iceland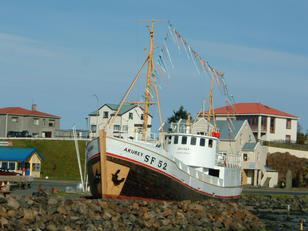 Hotel Hofn was founded in the year 1966 and is one of the best established Hotels in the country. It is located in the center of Hofn and has a breathtaking view over the magnificent glaciers, the circle of mountains and the fjord. Hotel Hofn is a 3 star Hotel with 36 comfortable rooms all equipped with a TV, radio, telephone, computer access and a private bath. A dining room/board room, seating 140 guests is situated at the top floor. A smaller restaurant "Osinn" featuring lighter courses such as pizza and local food is on the ground floor. The hotel has a bar and great facilities for conferences and all kinds of gatherings.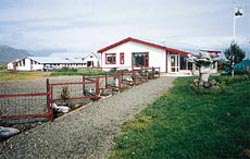 Brunnholl offers accommodation in a separate building for twenty guests in ten rooms. Six of those have their own bathrooms. The house is specially designed for easy access for everyone so disabled and handicapped people should find Brunnhóll an excellent choice. For breakfast we offer you freshly baked pancakes, Icelandic style, and we also offer home-style meals on request. For those who like to cook for themselves we have cooking facilities so as you can see we try hard to cater to everyones needs and wishes! Brunnhóll is a working farm and we encourage our guests to take part in the farming activities. We have cows, sheep, horses and our pets are always very popular with the children. Brunnhóll is situated by road 1, about 30 km west of Höfn. We are thus conveniently situated for sightseeing tours to Vatnajökull glacier, the Jökulsá lagoon, Lónsöræfi, etc. You can drive all the way to glacier Fláajökull and the peaceful outdoor recreation area, Haukafell, is not far. We offer guided tours around the neighborhood, bicycle rental and in the autumn, geese hunting. The bus from Jöklaferðir (Glacier Tours) and the scheduled bus Reykjavík-Höfn-Reykjavík, stop by the farm.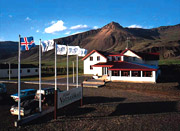 Fosshotel Vatnajokull is a popular Comfort Tourist Class hotel, with 26 rooms, all with shower/wc and phone. There is a restaurant & bar offering a panoramic view of Vatnajokull glacier. During the after dinner Viking hour we serve shark meat and Brennivon snaps. Other facilities include a TV-lounge and parking. The film crews and actors of Tomb Rider and the James Bond movie, Die Another Day, stayed in this hotel.