Home » Accomodations » Arensberg Hotel
Arensberg Hotel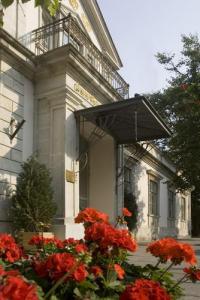 This is a unique and luxurious hotel in the centre of Kuressaare, with the wonderful Rosarium spa and sauna, offering all that you need to enjoy life's simple pleasures.
In this hotel, new and old styles are combined to create a feeling of unity. The symbol of the hotel is the beautiful rose - a symbol of love, health and freshness.
Room Info
All of the rooms have exclusive fittings and different art. There are 8 Rose Deluxe rooms and 2 suites, which have been named after roses. The spa and sauna centre have also an exotic and luxurious style. In the beautifully-shaped swimming pool, you can enjoy the salty seawater. There are relaxing showers, a hot bubble bath, a Japanese bath and 3 different saunas. For children, there is also a Turtles children's swimming pool. You can also enjoy the wonderful à la carte restaurant and wine cellar.
Rooms: 63